"Lower, Lower, Lower" 
By Michael McKnight, Editor of The South Dakota Bowhunter, August 2022

The title of this article has meaning to anyone that has bowfished and rings especially true to me because I simply cannot get myself to shoot low enough. I have been fortunate to chase paddlefish successfully now for three seasons and each year my friend (and financial planner extraordinaire) Adam Walter politely reminds me to "aim lower." I try but apparently don't try hard enough and, like when I used to play golf, get plenty of shots in before having success. This year was no different.
Adam has a boat that is rigged for bowfishing with an elevated shooting platform and everything else you would need to bowfishing. We met up at about 8:30 am in Yankton on June 17, 2022. In previous years my son and his friend Justin Kubesh had drawn tags as well but this year it was just me and Adam. It was a beautiful morning – seasonably cool, clear, and just enough of a breeze to keep the bugs at bay. The water was low. On prior year's hunts the water had been high and murky. This year it was low and clear, and it was a completely different hunt.
We motored into position below the dam and the difference in water conditions made it evident immediately that this was going to be a lot different from the other two years I had hunted. Paddlefish could easily be spotted at varying depths beneath the surface and the trick was going to be limited to me shooting low enough to connect when one I wanted to shoot came close enough to the surface. Prior years had been more similar to playing "whack-a-mole" – a fish would surface with only a heartbeat of notice to assess the fish, draw and shoot, with many shouts of "there's one over here, one over there, right off to your side etc." At least that was part of my bag of excuses in prior years.
Adam had told me before we even got going that all the fish this year for some reason were about the same size and his assessment was spot on. While there was a small variation there were no fish that were dramatically bigger than any other. He spotted one soon after we got settled. I drew and heard "lower, lower, lower still." I shot and missed. Shortly after, another shot high and outside. Let me digress a bit before I continue. I am 64 years old and have been shooting a bow since I was about 5. I am not a bad shot. So, if you know or see Adam tell him that for me. Please.
The next opportunity was within minutes. I connected albeit still high on the back. The fish took off and after a short time we were able to get the fish in the boat and tagged. It was the biggest paddlefish I have taken to date. I have also included a picture of the fish Adam shot later that day after I had left.
If you have never tried this, I would encourage you to do so. The bill makes a pretty neat, pre-historic looking kind of European mount. They are delicious to eat but you need to take care with the meat, removing the blood line and soaking the filets overnight in buttermilk before freezing.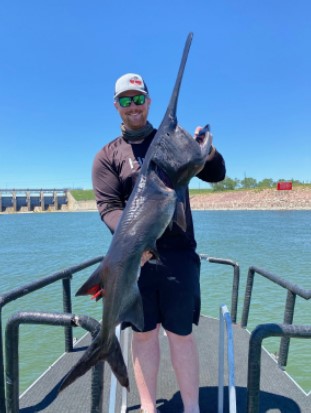 Adam Walter, Financial Advisor & Planning Strategist